Déroulement
Vous serez chaleureusement accueilli par Thomas pour un diner chez un journaliste parisien, avec un verre de vin lors d'un apéritif.
Puis Thomas disparaîtra en cuisine pour quelques minutes, pour vous ramener ses créations culinaires. Entrée, plat dessert où l'on rit beaucoup et où on mange de la bonne cuisine de terroir. Thomas raconte ses secrets Parisiens, anecdotes, le qui est qui Parisien et si vous ne connaissez guère Paris, il vous confiera ses adresses. Gérant sa société de presse, il a reçu en 2016, le Prix Elysée de la Photographie des mains mêmes du Président Hollande. .
Une expérience unique !
Les points forts
Être à deux mains des plus grandes célébrités
Anecdotes secrètes
Vivre comme un parisien le temps d'une soirée
Ce qui est inclus
Apéritif d'accueil
Diner (entrée, plat, fromage et dessert)
Boissons, vins
Important
Diner en français, anglais et espagnol
Merci d'indiquer 48h avant le diner tout régime alimentaire particulier ou restriction alimentaire : des modifications de dégustations peuvent être apportées en conséquence. Option végétarienne/sans gluten possible(nous contacter)
Groupe de 8 personnes maximum, ce n'est pas un diner privé
Bon à savoir
Lieux : Paris 16ème 
Paris A Dream est une entreprise locale qui n'a qu'une envie : valoriser notre savoir-faire français et vous procurer des expériences inoubliables et promouvoir un tourisme durable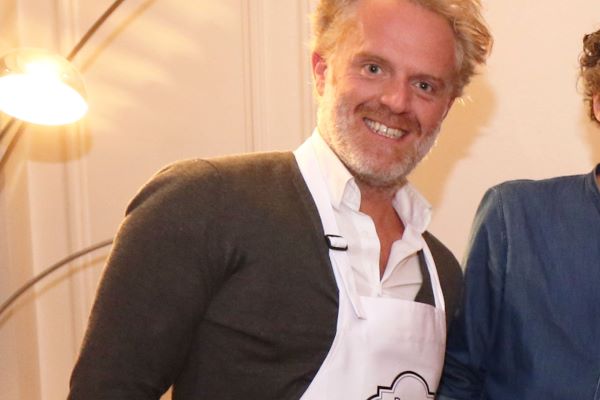 "Notre expérience a été incroyable - le point culminant de notre séjour à Paris. Veuillez transmettre à Thomas nos sincères remerciements. Il est un hôte merveilleux et nous avons beaucoup appris.
Melissa - USA
Delights in Bordeaux We loved touring the market and enjoying wine and cheese. The canales were the best we had in Bordeaux. We enjoyed seeing the first organic food store in Bordeaux in seeing its wares. We were introduced to some fruit we had never seen before. Stephanie chose great places for us to be and was a delight. We toured the first day we were in Bordeaux and Stephanie gave us a great template for the rest of our stay. She was very knowledgeable about the history of the city, which was great for two history buffs.
Expérience géniale Expérience géniale ce week-end à Bordeaux ! C'est incroyable de pouvoir visiter une ville tout en dégustant des produits de grande qualité et en découvrant tout un patrimoine culinaire.

Une activité que je recommande à 100% pour visiter Bordeaux !

Merci encore pour ce FoodTour!
A wonderful way to discover Bordeaux We thoroughly enjoyed our food tour and would highly recommend it !Our guide Isabelle has carefully selected each stop , and we were introduced to small producers who pride themselves on the quality of their food. We tasted coffee, chocolate , bread , cheese , and charcuterie and learnt about the history of Bordeaux while meandering through the beautiful old town.
Lovely food tour We had an excellent experience. The guide was very knowledgeable, personable and had lived in Paris for 30 years. I would definitely recommend, worth the time & money!
Wonderful My daughter and I really enjoyed this tour. The neighborhood of Belleville, like all of Paris has wonderful history that has been brought into the present. My favorite stop was the Boulangerie. I had the best croissant of my entire life. It was warm, fresh, flaky on the outside and soft buttery layers within. Yum! We learned so much about the background of the food at each stop. This was a great way to kick-off our time in Paris.
Great food tour! Isabelle was great! Super knowledgeable and the tour was very well planned hitting multiple stops. The food and drink was fantastic and Isabelle was very accommodating to my wife's food restrictions. Would highly recommend this on a stop through Bordeaux!
LoveTravel661932
2022-09-26
Great Very informative, saw lots and ate lots that I would have never done without being on the tour. Excellent way to see the city for the first time.
Awesome Tour! This is a must do when visiting Paris especially for food & wine lovers. Our tour guide, Norig, was very friendly & knowledgeable. All the places we stopped at were amazing and we were able to buy anything we wanted to take home. Highly recommend!
FellowTraveler746664
2022-09-19
Tour interesante Es una experiencia distinta a otros tour guiados. Se visitan comercios especializados en temas gastronómicos poco frecuentes y por ello muy curiosos. Es bastante original. Se aparta de lo habitual y en grupos muy reducidos
Food tour in st germain The food that we ate was fantastic and the guide was so nice and knowledgeable. She did not rush through and let us look at what we wanted .